Repton School
Our pupils follow an academic programme based on the British National Curriculum from Early Years to Year 11, (FS1 to Grade 10) studying a broad range of International GCSEs, examined at age 16 in Year 11, accredited by the Cambridge and London University Exam Boards.
Thereafter students study for the prestigious International Baccalaureate qualification, post 16, following either the Diploma or Careers programmes. The latter qualification is available through a BTEC qualification for both Business and Sport. At the senior school, the academic programme is organised into three terms. In Years 7-9 (Grades 6-8), pupils are taught core subjects (Maths, English, Science) in ability groups and non-core subjects in mixed ability groups. At the end of Year 9 (Grade 8), students choose their IGCSE options and follow these over a two year period. At the end of Year 11, pupils are awarded their IGCSE certificates and those achieving a minimum of 6 passes at grade 6 are invited to join the sixth form to follow the IB Diploma Programme. For students opting to follow the IB Career-related Programme, a minimum of 5 passes at grade 5 or better are required. The International Baccalaureate is intellectually rigorous, demanding that pupils not only attain high academic standards but also that students fully participate in out of class activities through the Creativity Activity Service (CAS) aspect of the Diploma. In addition, students study a course in the Theory of Knowledge [TOK] and complete a 4000 word Extended Essay. Through these courses pupils develop the knowledge of how to learn and positively challenge their perspectives of the world from a variety of differing viewpoints.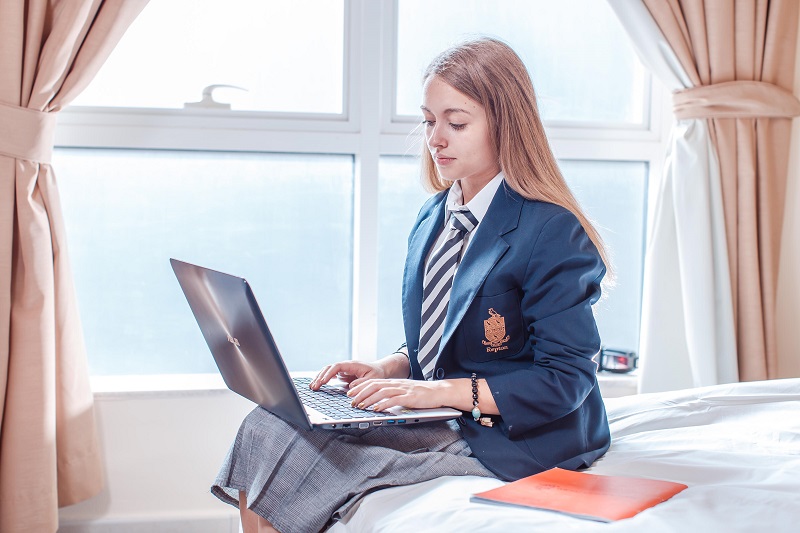 ACCOMMODATION
Our beautiful boy's and girl's boarding houses are nestled in the heart of our vast campus. Whilst our younger boarders enjoy living in dormitories where they learn to live alongside and share with others, our older pupils occupy single rooms allowing for privacy and personal study time. There is high speed internet access throughout both boarding houses, as well as communal lounges, study rooms and kitchens which allow everyone to come together in an informal setting to relax and unwind. Boarders also have access to Repton's world class facilities during their weekends and leisure time, including sports facilities, gymnasium and swimming pools.
Both houses have a boarding Housemaster and Housemistress, along with a network of support staff, available at all times to care for the pupils' academic success, welfare and practical needs.
With an on-site medical centre, our qualified medical staff are available at all times to provide medical cover to boarders who are unwell. In addition, a school counsellor ensures the pupils' emotional wellbeing is cared for.
EMILIO SÁNCHEZ  TRAINING SYSTEM©
The Emilio Sánchez Training System© is unique in the world. Designed by Emilio Sánchez Vicario , it is based on four core pillars: technical, tactical, physical and mental.
Each of these four pillars is developed intensively, and each is tailored to the player's stage, which depends on age, physical condition and tennis level. The stages are reflected in the Emilio Sánchez Development Pyramid©, and range from the initiation stage to the elite stage.
In the area of sports science, the program includes all services on site that the player may need, such as physical training, nutrition, sports psychology, and physiotherapy.
The Emilio Sánchez Training System© includes the Emilio Sánchez Athlete Mind System: an on-court and off-court mental coaching system with the mental and tennis coaches working together.
What will you
learn

?