An outstanding
global education
ES American School is an independent, coeducational, American Elementary School (1st-5th grade), Middle School (6th-8th grade) and Senior High School (9th-12th grade). Its objective is to provide its students with an excellent academic experience that prepares them for future university studies.
Our Elementary School is an authorized IB World School and we offer the International Baccalaureate (IB) Primary Years Programme (PYP) for grades 1 through 5. For further information about the IB and its programmes, visit www.ibo.org
All students receive individual attention, close academic guidance and personal counseling, in order to ensure both the acquisition of academic competencies and the development of individual strengths and talents.
Students follow an American academic program, but also benefit from the multitude of cultures offered by their teachers and fellow students.
MAIN FEATURES

OF THE SCHOOL
Located directly on the world-class campus of the Emilio Sanchez Tennis Academy in Barcelona and Florida: Sports are an essential part of the curriculum. The combined ES Academy/ES American School curriculum encourages active participation, a healthy lifestyle, and an enjoyable athletic and academic atmosphere.
Fully compatible: The school program is offered in a format that makes it fully compatible with a student's tennis training without undermining academic quality. Each student is assigned an Academic Advisor, who is responsible for overseeing the student's development, welfare and progress. Academic advisors also coordinate with each student's athletic tutor to allign the academic and athletic needs of every student.
Highly qualified, dedicated faculty: Who understand the unique challenges international students face in the American school system, and who know how to meet those students' unique academic needs. 7:1 student-to-teacher ratio.
Advanced Placement (AP) courses: ES American School students have the opportunity to take AP courses in High School, standardized high school courses that are roughly equivalent to undergraduate college courses. After completing an AP class, students typically take the AP exam in that subject, for which they can earn credits and accelerated placement in college.
ES Americanl School philosophy of education: Curricular emphasis on strengthening students' oral and written language skills, including a focus on the acquisition of critical reading skills.
ES American School culture: A school culture that promotes and celebrates diversity and individuality.
Middle School

Academic Program

The middle school program encompasses grades 6–8.

Promotion from middle school to high school requires that a student successfully complete 18 credits, which must include the following:
Three middle school or higher courses in English,
Three middle school or higher courses in Mathematics,
Three middle school or higher courses in Science,
Three middle school or higher courses in Social Studies,
Six elective courses, chosen based on a student's area(s) of interest.
Note. Students participating in Academy Emilio Sánchez Academy's intensive annual tennis and fitness program also receive 0.25 Physical Education (PE) credits per semester.
High

School

The high school program encompasses grades 9–12. Receipt of a high school diploma requires successful completion of 24 credits and a minimum grade point average (GPA) of 2.0. The 24 credits required for high school graduation must include the following:
Four credits in English,
Four credits in Mathematics (Algebra 1 required),
Four credits in Science (Biology with Lab required)
Four credits in Social Science (American History required),
Two credits in Foreign Languages (2 years of one foreign language required),
Five credits in Electives,
One credit in Physical Education.
Note. Students participating in Emilio Sánchez Academy Tennis + School and U12 Tennis + School programs will also receive 0.25 Physical Education (PE) credits per semester. Thus, most ESIS students typically exceed the minimum 24 credits required for high school graduation.
School
Profile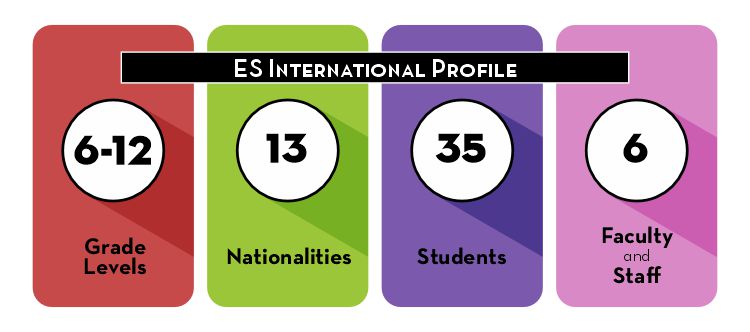 LANGUAGE

PROGRAM*

For programs without school (*)

The Language Program offers the possibility of combining weekly, monthly, and annual tennis programs with Spanish or English as a Second Language (ESL) courses on the ES Academy campus.

The language program involves students in a process of linguistic communication and intensive practice of the four basic elements of language education: oral, comprehension, written, and reading proficiency.
Private
tutorials
Students requiring additional help in a subject area may sign up for private one-on-one tutorials.
The availability of private tutorials depends on teacher availability. For information about tutorial fees, please contact ES American School.